Native Explorer Tour with Legacy
$<% adultRetail | limitTo: 3 %>
per adult
$<% childRetail | limitTo: 3 %>
per child
Duration: At the customer's discretion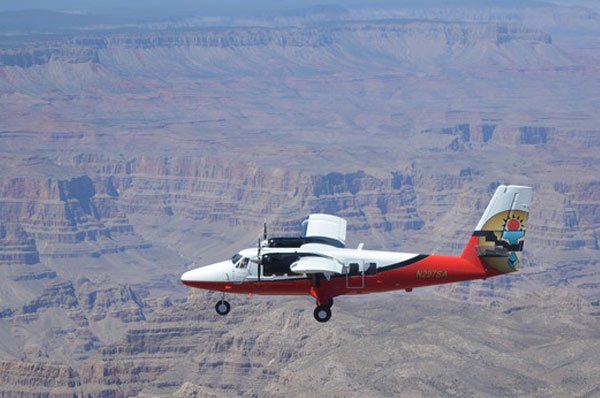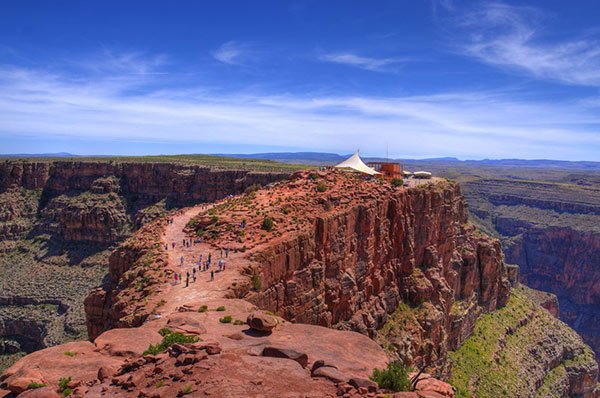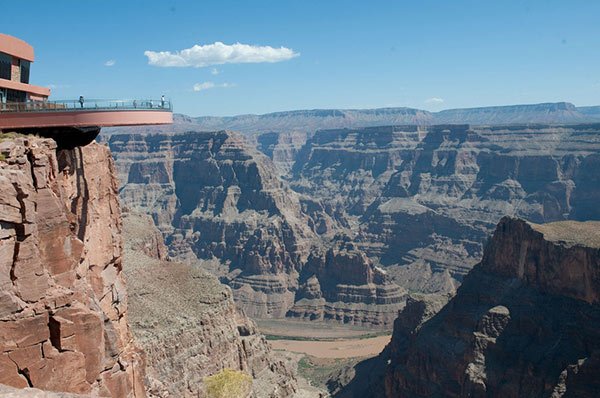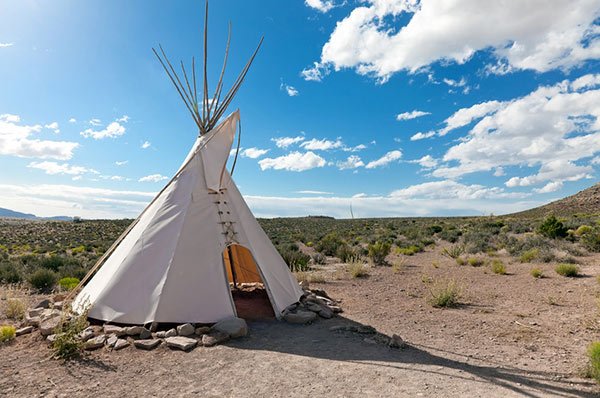 Sightseeing flight over Grand Canyon West and Colorado River
Climate controlled cabin
High wings and large windows for ideal viewing
Tour narration available
Photo opportunities
Hop on/hop off shuttle access to multiple stops on the rim
Make the most of your Grand Canyon West experience with Grand Canyon Airlines. We're proud to offer the thrill of flight to visitors already touring the canyon's west rim. This air tour departs from the Grand Canyon West air terminal and flies you over the canyon's most notable landmarks. Take in glorious views above Eagle Point, home of the famous Skywalk glass bridge, Guano Point, and other areas of interest within the west rim. As with all Grand Canyon Airlines tours, narration will highlight interesting geological facts and explore the history of the Grand Canyon.
Once you return to the air terminal, you'll board an air-conditioned motor coach for a self-guided ground tour of Grand Canyon West. This hop-on/hop-off shuttle will take you to the important viewpoints along the rim of the canyon. At Hualapai Ranch, western charm sets the tone for this old west cowboy town complete with an old fashioned gunfight. Eagle Point, named for the eagle-like rock formation visible there, provides stunning views 4000 feet to the bottom of the canyon. Finally, Guano Point offers a spectacular viewpoint that juts out into the Grand Canyon and offers a nearly 360-degree canyon view. Return to the terminal having explored the Grand Canyon by both air and ground, making this one unique adventure!
Request an Airplane window seat?
Our "Window Seat Request" allows you to request the window seats of the aircraft you will be touring in. While every seat aboard any of our touring aircraft have a great view, the window seats offer a bit more, utterly unobstructed, photo opportunities.
If the aircraft is capable of accommodating your request (which is highly likely) then the price per window seat is $10. This charge is payable when your request is confirmed after check-in. We accept most major credit cards as well as cash & travelers cheque.
Charge to Request: Free
Charge if Confirmed: $10.00
Tour Duration
An approximate 20 minute aerial flight.
Check In
Arrive at our terminal for check-in.
Aerial Views
Amazing views of the Grand Canyon West and the Colorado River.
Self Guided Tour
After seeing the canyon by air, board a shuttle bus to multiple points to explore the canyon by ground.
Hualapai Ranch
Visit an old western town with cowboys and gunfights! Learn how to rope and quick draw like a cowboy!
Eagle Point
Live cultural dances performed by the Hualapai along with Native American dwellings. The legendary spiritual eagle-like rock formation can be seen at this point.
Guano Point
Panoramic views of the canyon from every point of this location. Take advantage of the creative photo opportunities!