Grand Canyon Airlines Ownership
Elling B. Halvorson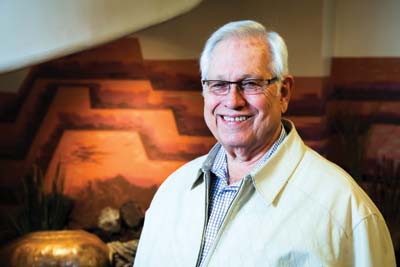 Elling Halvorson's story at Grand Canyon begins with the construction of the pipeline across Grand Canyon in 1963 to supply the Grand Canyon South Rim with water. Halvorson had a construction company which specialized in remote area high logistic projects and he successfully won the bid to construct the new fresh water pipeline for the National Park Service. Elling took on the task of building this much needed pipeline which stretched across 13.5 miles of some of the most difficult terrain in the world and required innovative methods to accomplish the job.
Halvorson utilized helicopters to guide and lower the pipe into the Canyon. Guests and workers associated with the project were overwhelmed with the view of the canyon from the helicopters and requested chartered flights of helicopters. By 1965, Grand Canyon Helicopters was started to provide aerial tours to its many visitors, which is now known as Papillon Grand Canyon Helicopters. Halvorson soon realized that he also needed fuel and maintenance support which led to his purchase of Grand Canyon Airlines from the Hudgins Family in 1967. Soon thereafter Halvorson relocated GCA from the original Grand Canyon Airport (which GCA built in 1927 under the name Scenic Airways) to the new airport which the State of Arizona built completed in 1967. In 1972 Halvorson wisely partnered with other individuals such as John Seibold, who founded Scenic Airlines in Las Vegas in 1967 and together Halvorson and Seibold built GCA into a world-class Grand Canyon Las Vegas airplane tour operation, including the introduction of the VISTALINER aircraft. In October 2005, the Halvorson family purchased Seibold's interest in GCA and once again the Halvorson family now fully own GCA.
Grand Canyon Airlines
is believed to be the world's oldest, most experienced air tour company in continuous operation since 1927. Proudly owned since 1967 by Elling B. Halvorson and Family, Mr. Halvorson has been credited with truly developing and shaping the Grand Canyon Airplane tours industry.