The Ford Tri-Motor
The Ford Tri-Motor (5-AT-74), nicknamed the Tin Goose, was an American three engine civil transport aircraft first produced in 1925 by Henry Ford and continued until June 7, 1933. Throughout its lifespan a total of 199 aircraft were produced. It was popular with the military and was sold all over the world. Like his cars and tractors, these Ford aircraft were well designed, relatively inexpensive, and reliable for the era.
The plane has a wingspan of 77 feet 10 inches (only a few people ever notice that the left wingtip is squared off and not round), a length of 49 feet 10 inches, and a height of 13 feet 8 inches. The 5-AT-74 usually thirsts for about 80 gallons of fuel an hour. Not as heavy as it appears, it is only 9,188 pounds empty and certified up to 13,250 pounds max. The 5-AT-74 would typically carry up to 15 passengers and two crewmembers.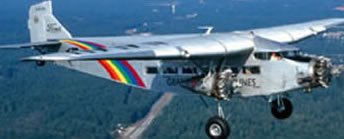 In 1977 John Seibold, co-owner of Grand Canyon Airlines (GCA), acquired a Ford Tri-Motor, which now spends most of its time on the ground giving visitors a good close up look at the corrugated aluminum skin, external control cables, immaculate authentic interior, and beautiful radial engines.
As of 2007, there are 18 Ford Tri-Motors in existence, six of which are flyable. This stately antique is carefully tended to as the 5-AT-74 resides at home at the private Grand Canyon Airlines terminal at Grand Canyon Airport.