The Vistaliner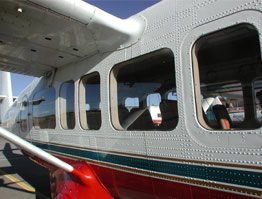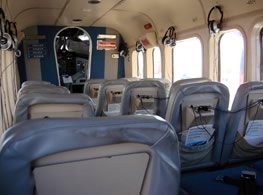 There are high wings with no obstructions, re-engineered with the largest flat, un-tinted panoramic windows on any air tour aircraft, perfect for sightseeing and photography!
Configured with 17 comfortable, seats, it is perfect for groups of any size. Because GCA led the way in voluntarily upgrading its fleet of single engine aircraft to the 19 passenger Vistaliners, GCA flies just one flight over the Canyon for what previously required three flights to accommodate the same number of passengers. The Vistaliner has significantly reduced the flight intrusions and noise generated by 2/3 of GCA's operation.
The passenger cabin is climate controlled with heat and air conditioning to allow for the most comfortable ride.
Grand Canyon Airlines aircraft have a substantially better communications system and avionics package, as well as numerous other special upgrades.
Vistaliner has two extremely powerful, turbine driven engines, not piston. The extremely strong, reliable, and quiet Pratt & Whitney PT-6 (Dash 27's) provide a very significant difference in strength and exterior noise compared to a competitor's aircraft.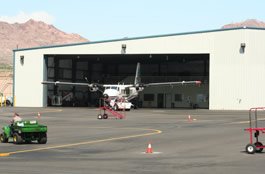 Two highly qualified and trained pilots are in control of every Vistaliner flight. GCA has higher, pre-hire minimum requirements and qualifications for its Captains and First Officers than its competitors.
On each flight a digital narration system, for music and information, is provided on board with headphones at each passenger seat. GCA also has their Grand Canyon tour narration in several languages: Spanish, Japanese, German, Italian, French, Dutch, English, and Korean.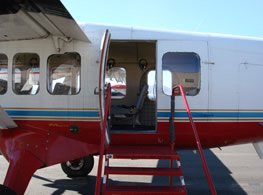 Each seat is equipped with an adapter jack outlet where, upon request, passengers can connect their personal camcorders or digital video cameras (via the mic jack) allowing the digital tour narration and music to be cleanly recorded without feedback or background noise.
Nineteen passengers per flight allow GCA to operate a lower unit cost per passenger, thereby allowing GCA to provide the most affordable tours offered.
Each Vistaliner is maintained thoroughly each day by a first-rate internal maintenance team. All maintenance (general and major) is done in-house in our 10,000 square foot hangar and maintenance facility.
GCA employs "quiet technology." By adding a specially designed fourth blade to the already quiet propeller, this successfully reduced the exterior noise by an additional 66%. The Federal Aviation Administration and the National Park Service consider the Vistaliner to be the quietest aircraft currently flying tours of Grand Canyon.
Each GCA Vistaliner is valued at over $1.6 million and one is worth nearly the entire previous GCA fleet of 13 Cessna 207 airplanes.
The Vistaliner has large cargo hauling capability in its baggage compartments.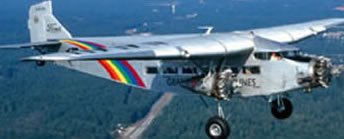 GCA is proud to specialize in assisting physically challenged and impaired Grand Canyon visitors in the large Vistaliner. The passenger cabin is large and roomy with a high ceiling, allowing for a more comfortable ride. The interior is mmaculate. The aircraft is large and stable, generally allowing for a much smoother ride than smaller aircrafts.
GCA owns a fleet of twelve Vistaliner aircraft and has an exclusive operation of this type of aircraft on tours from Grand Canyon and Scottsdale. GCA is capable of handling up to 114 passengers per departure.
The Twin Otter Vistaliner is considered a Short Takeoff and Landing (STOL) aircraft, making it a perfect aircraft for short, unimproved, remote strips and airfields. It also allows for slow(approximately 90 knots) stable flight during tours for superb viewing.
Each aircraft has high-technology weather radar equipment, terrain and collision avoidance systems, GPS navigation systems, de-ice/anti-ice system, with full instrument flight rule capable flying.