Grand Canyon Airlines History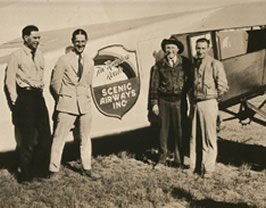 Just 23 years after the Wright brothers broke the surly bonds of earth's gravity with a powered and controlled aircraft; another visionary named J. Parker Van Zandt had the desire to further promote and create a niche in aviation dedicated solely to promote man's ability to fly with sightseeing. And he found what he thought was the perfect spot on earth to do that: the Grand Canyon. Organized in 1927 under the name Scenic Airways, the first commercial air tour of Grand Canyon was on October 3, 1927.
Since that time, and under a new name, Grand Canyon Airlines (GCA) is credited with providing the first commercial air tours and charters over Rainbow Natural Bridge, Monument Valley, and much more. Van Zandt thought the west and southwest so beautiful, he named the flights "The Rainbow Route," as depicted on the aircraft at that time. The company thrived by expanding south looking for winter business where Van Zandt bought five cotton farms just outside of Phoenix, built an airport, and named it "Sky Harbor." The first flight from Sky Harbor was aboard our Ford Tri-Motor on November 18, 1928. Shortly thereafter Van Zandt started a flight training school, taking a fishing club to Rocky Point, Mexico.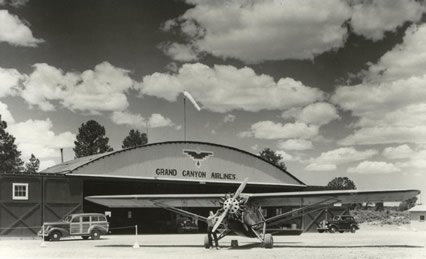 The following year saw more growth before the stock market crashed in 1929 and the Great Depression set in, causing Van Zandt to sell the company and assets to some local Arizona pilots. The company then changed its name to Grand Canyon Air Lines and the Thunderbird was introduced as the logo in 1930. A short while later the name was simplified and changed it to Grand Canyon Airlines (GCA), and Service continued with expansion to Boulder City, NV, where air tours were provided over the newly constructed Hoover Dam ( then known as Boulder Dam) and the Grand Canyon. That service was discontinued in the late 1930's but was started again in 2005.
Today, GCA has provided millions of visitors from all over the world with memories and experiences of a lifetime and GCA continues to share the Grand Canyon, Rainbow Bridge, Monument Valley, and more! Please enjoy just a small piece of our history through these incredible photographs.
(NOTE: All photos are property and copyrighted by Grand Canyon Airlines and may not be used without written permission).